A bit ranting first, ok?
My baby, Canon 400D was hospitalized for the whole week because of virus Error99. My only backup now is using my old PNS Sony-T10 which I have given them to my Eldest Princess. One thing I have to lecture her so early in the morning. The moment I switch on the camera, the 'low battery' signer was flashing and I know this is spelled as T.R.O.U.B.L.E. Sure enough, after three flashes, the battery went totally flat. "Flat battery" has never in my vocabulary. As a photographer, always, ALWAYS make sure you have sufficient battery power at all times. Battery power is like your life! They are like your oxygen tank! They are like your fire extinguisher! They need to be on standby 24/7! And what makes a photographer angry is when she can't take a picture. Even though it is just some stupig food that nobody even cares! Understand???!!!
Ok, done ranting now.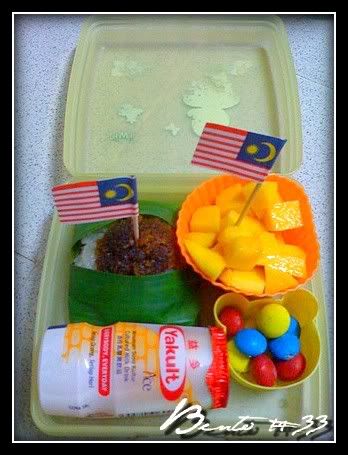 Sorry for the grainy picture. Took them using my iPhone. I tried to have a all Malaysian theme food for the Merdeka Bento. Other than the Pulut Inti and mango, the other two (Yakult and peanut butter M&Ms. Hey at least I take the effort to have the 3 colour there – red, blue and yellow) is so not Malaysian -.-' What to do, I was super stress for the whole week while the Hubby is away and he doesn't do justice when he is back. Might as well don't come back right!!!!!
Have a Brilliant Merdeka Day, ya'all!
p/s: Going for a picnic in Morib this weekend. Yay, yay! Plan was canceled :(Â  Everyone suddenly got busy on a holiday.