Call me a vain pot or whatever, I don't care. But I know once you have finished reading this post, you will head straight to Guardian to get a pack of this…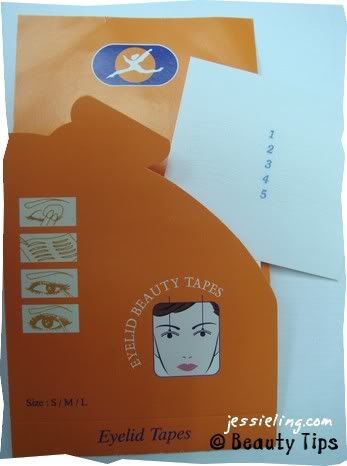 Artificial eyelid tape.
This is how I do it.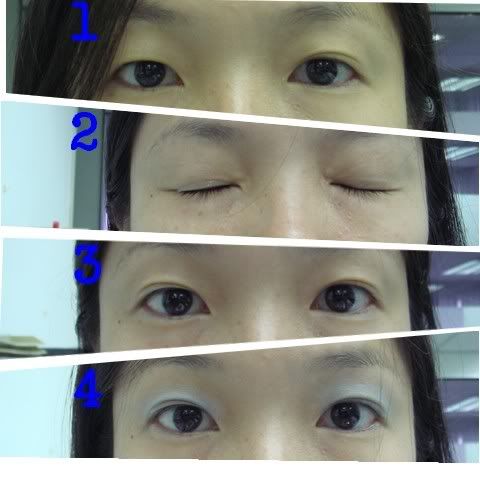 #1 – Naturally, only one side of my eye has double eyelid. Sibeh ugly until can die lidat. To make it balance….
#2 – Use a tweezer to hold on the tape and stick them on your eyelid.
#3 – wOOt!!! Now, both eyes has double eyelid. Next…
#4 – Put on your usual eye shadow.
The end result……

I hate them! Firstly, I hate that irritating feeling on my eyelid! The photograph doesn't show much but in real life, the tape is so obvious. Sibeh ugly can die lidat!!! I tried putting a darker eye shadow on the tape but the powder won't stick to the tape. And did you notice for item #2 – I've mentioned using a tweezer? I have no choice but to use my fingers cos I don't have a tweezer. And the tape is so sensitive to touches, it won't stick anymore especially the end. After I've stick the tape on my eyelid, the tape keep on coming off on the end. Sibeh ugly can die lidat!!! Another thing is, whenever you blink your eyes, the tape is so obvious. How not to blink when talking to peopleeeeee. Sibeh ugly hor… *sigh…
Whoever want try the tape can get from me since I'm not using them anymore.
The damage……
Vely cheap only!!!! Can't remember the price liao but I think less than 5 ringgit.