… continue from Day 1 (Part 3 of 3) – Sunset in Phnom Bakheng Hill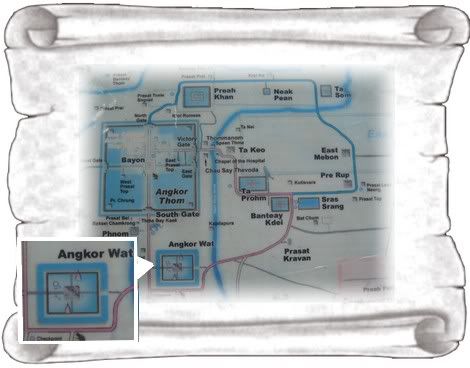 Early rise today. Mr Tuk-Tuk was already waiting at our hotel at 5am sharp. Today is a long day as we planned to go temple hopping (click for map) and fully utilized our ticket (US$20) as it is valid for a day only.
5.30am – We started out in Angkor Wat for the sunrise.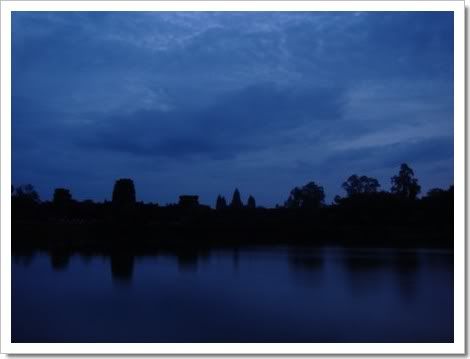 We was told by Mr Tuk-Tuk to wait at this spot (outside the gate). While waiting, we camwhore lots of 'silly me' poses. 10 minutes later, the sun started to rose from the East hiding behind some bushes.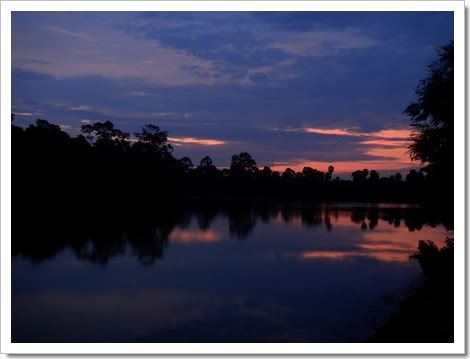 I was very dissapointed. This is not what I've wanted. I want the sun to rise behind Angkor Wat and not along some bushes! *sigh…
We then proceed to enter outer gate of Angkor Wat. Not knowing where to start snapping till I saw the cambodian child. Again!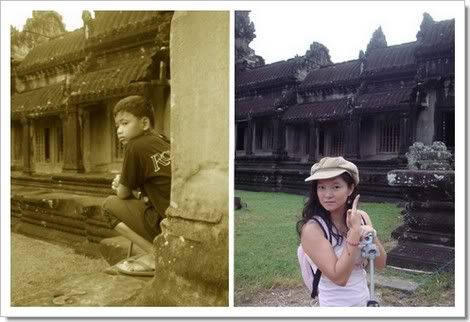 I love the angle and setting my camera to sepia makes it blend in with the occasion perfectly. I tried myself in sepia too but didn't quite like it. I still prefer original colour.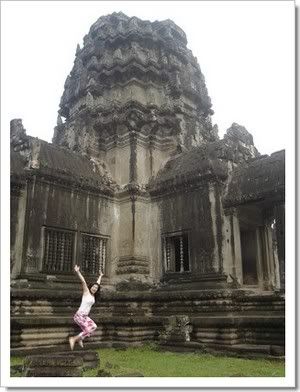 The towers in Angkor Wat resemble a lotus bud. Did you see that the surface of Angkor Wat is covered by moss? If you want to visit Angkor Wat, do it now. I'm sure in 5 to 10 years down the road, the whole of Angkor Wat will be covered by ugly moss. Unless they give it a nice clean scrub, otherwise…
I love corridor. Don't ask me why.
Inner corridor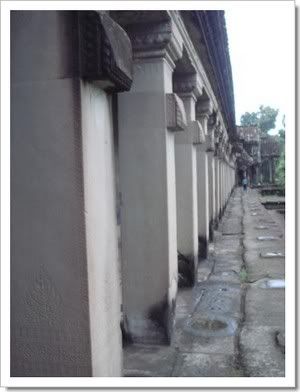 Outer corridor
Maybe it's because I like to play peek-a-boo. *big grin*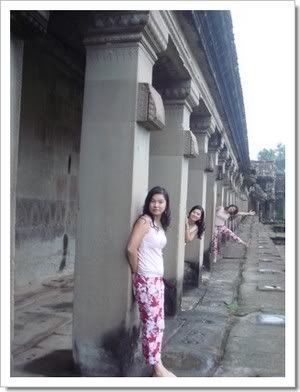 My sis then said, "Jie, lidat not nice liao. We should try one like pole dancing."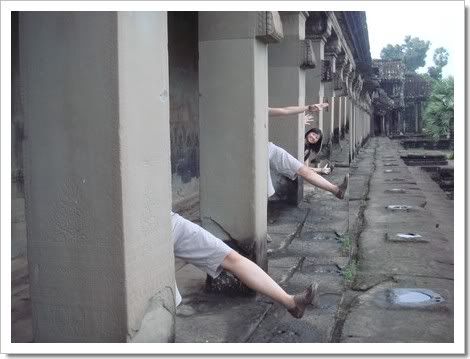 Me old liao la. Got fat tight only.
We can see the main temple from far.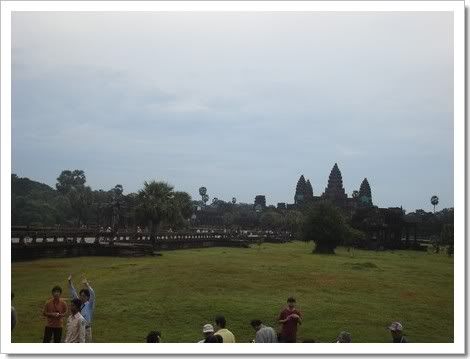 So, lots of walking to go and watching out for puddle of water.
And we walk, and walk, and walk….
The moment I saw this, the first thing that came to my mind is….
HIDDEN MICKEY!
There's so many of them!
>We are almost there but not quite there yet.
While I was taking this shot, I saw a hot air balloon in front of me. So I just turn around and snap this pic.
And finally… the most photographic place in Siem Reap.
The reflection of Angkor Wat in lotus pond. I'm so happy and excited! Finally, I saw what I've always seen in the internet.
7am – We was by the side of the pond and came some kids taking orders from us for breakfast. Somehow I finally realised that I'm hungry. We graciously ordered a omelet sandwich and a cup of milk coffee.
Came a few boys trying to sell souvenirs. Again! I just shook my head and smile at them. They all left after giving up on me except for a boy. He's trying his luck by showing me some key chains, post card, fridge magnet. ALL also me not interested, ok!
Finally my food came. I excused myself from him cos I need to eat now. Can you believe what did he say?
"You eat first. Later buy from me, ok?"
I almost fall off my chair. Don't know should cry or laugh. But that is so hilarious!
The coffee is so kau (thick)! Full of umph! The omelet sandwich is just so-so. Nothing to shout about. Guess how much does my breakfast cost?
US$3!!! That is a freaking of RM10.50 for my breakfast. It's all my fault. I should have ask for their price first before ordering. Note to self, always ask for their price! *sigh… Remember ah, don't eat at the stall inside Angkor Wat.
Time to conquer Angkor Wat!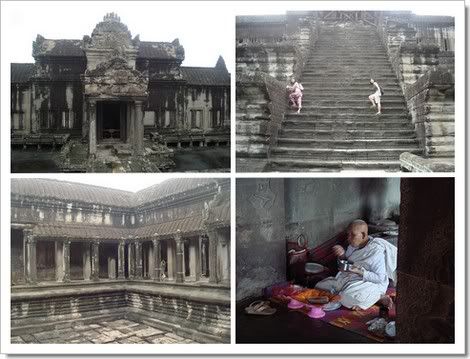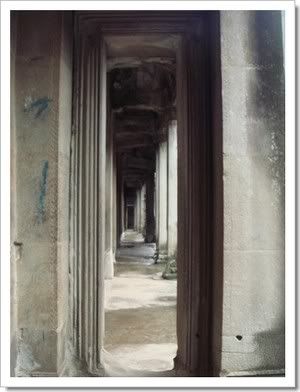 Corridors again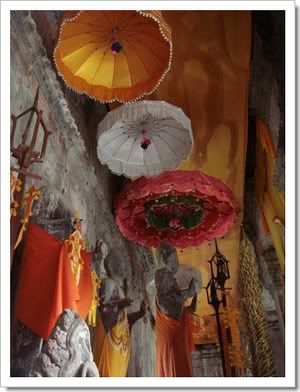 Buddha statue
Very beautiful Bas-relief and Apsaras Dancer.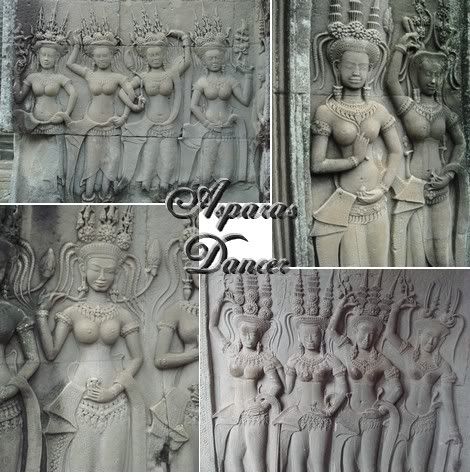 It is believe that Apsaras Dancer is a bunch of sexy yet mysterious supernatural fairies.
And we did lots of Apsaras dancing too *cough*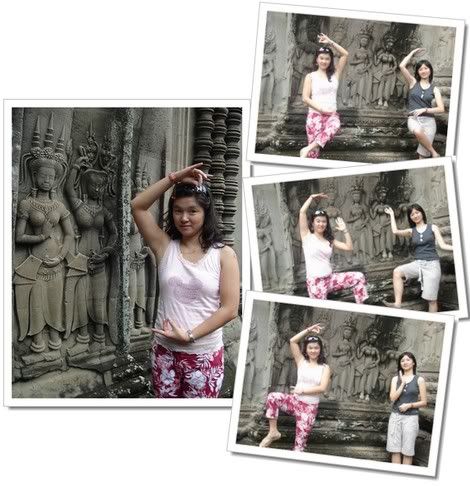 That's so much on Angkor Wat. I have lauzy sunset pic. Vowed to myself that I will be back again. Just for the sunset at the lotus pond. Anyway, Hubby is so jealous after seeing all my photograph. Well, my next trip to Siem Reap would be with him. It's a matter of time now ;).
We left Angkor Wat and headed to the South gate of Angkor Thom. Bayon, here we come…..
… to be continue in Day 2 (Part 2/5) – Bayon