(Warning: Overload with lotsa awesome pictures again.)
Points to Ponder: Ever wonder why on Halloween you have to go from door to door with your goodies bag shouting Tick Trick or Treat asking for sweets?
A small group of Hallomooners!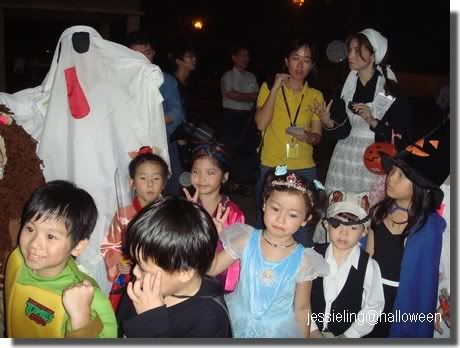 Children is divided into groups with names such as Pirates, Witches, Zombies, Mummies, Vampires and I can't remember the other 2 groups.
One of the group.
Introducing……
The Witches. Tried to get them to do some roaring post. In return they gave me the peace sign *haiz… Sometimes girls is so sissy. That's eldest princess standing first from your left. Handmade robe with velvet hat and pumpkin stitching. psst… she's wearing my black dress too. lol. Thank goodness it was a spagetti strap dress. I just knob it and violaaaa.
Pirates of the Carribean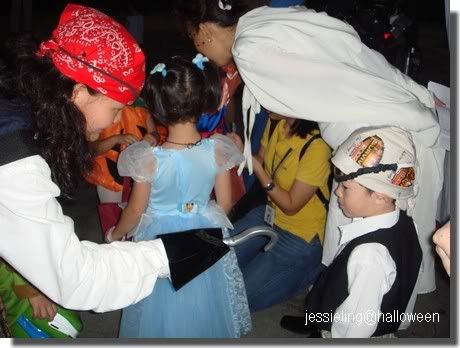 Adult: Hey, kiddo, wanna fight? I've got hook. What you have?
Prince: Huh, you gotta kidding me?
Prince: I've got gun and now I stole your hook. muahaaahaaa….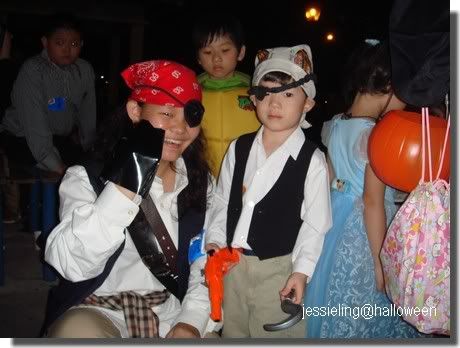 Adult: Oh, sucks! I lost 🙁
And we have Geisha, Fairies and Dracular too.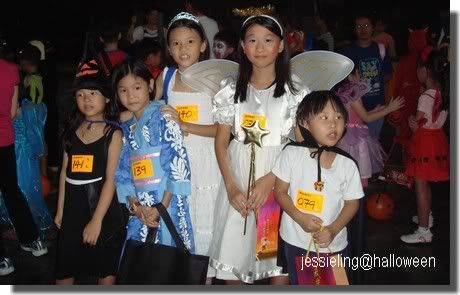 Yes! He's a dracular. Chis, not scarry also. Wait till you see this.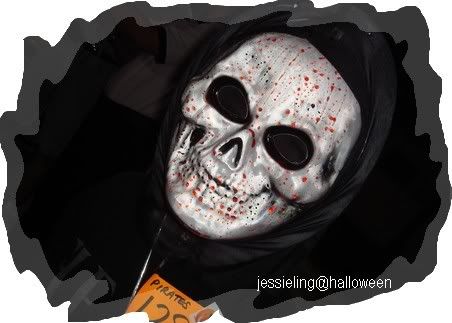 Waaaaaaaaaaaaaaaaaa!!!!
Time for trick or teat treat around the neighbourhood. Instead of shouting trick or treat, we sing this…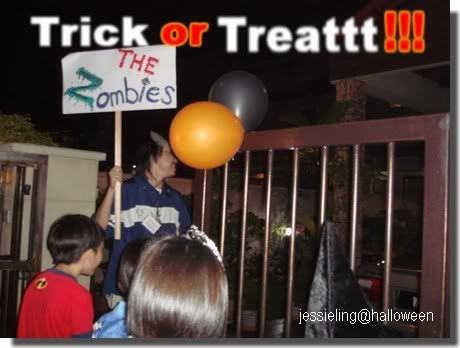 (sing to the tune of Rain, rain go away. What? You dunno the song? tsk… tsk…) It's Halloween, smell my feet. Give me something good to eat.
Did you notice a orange and black balloon on the gate? Those are the neighbours who is participating in the Trick or Treating session. We don't simply go and ring everybody's door bell and shout TRICK or TREAT. I think it's a good way to indicate the participant?
Fat Chubby Boy Doremon was in shock.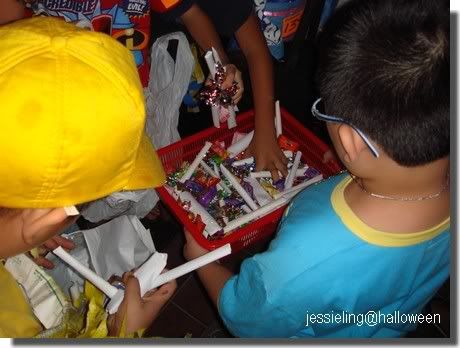 Lack of disipline Hallomooners!!! They just push each other and grab hands full of sweets. Some goes for 2nd helping.
"Don't come any nearer or I shall kill you!!!"
Hallomooners was given priority of safe road all the time.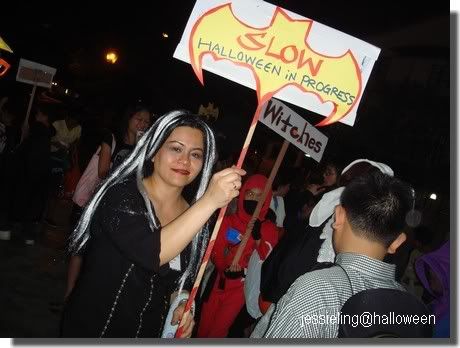 You know how crazy is drivers on Malaysian road. We don't want to see one of the bloody Vampire under the Mat Rempit wheel.
The whole night we was out trick or treating around the neighbourhood. We get the same goodies.
Pirate of the carribean: Aw! Not again. JELLY!!!
The Witch: This bag is too heavy!!!
Jojo the clown: Opie (as in "open" the sweets)
Oh, talking about Jo-jo the clown. That's Baby Princess. 🙁 Forgot to take her pic. But I've got one shot of her in a group photo.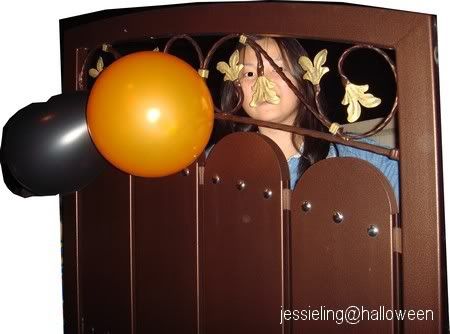 "Sorry, we are out of sweets. But I've got a orange and celery. Who want?"
That's all for the night of Trick or Treating. We missed the costume parade but seeing other kids with even cooler costume, I don't think we'll win anything. And since this is an outdoor activity we'll give the pinala a missed 🙁 It's just impossible to hit a pinala at the basketball court.
Currently we are intoxicated by sucrose and the kids has turn out hyperactive over the weekend!!!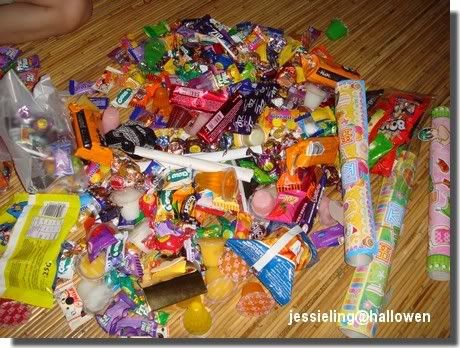 This is a mountain high of sweetssss!!! Thank goodness I don't have sweet tooth.