There's something about America that I need to bitch before I forgets. Tipping! Everywhere you go make sure you have plenty of small note for tipping. For example our tour to Disneyland and Universal Studio. End of the day when we are back into the tour bus, the tour guide will announce this over the mic, "Please get ready your tipping. Minimum is US$5. I'm making my rounds shortly after this to collect from you." Wah, I thought we only get rob like this in China. Never know America also like this! KNN.
Toffee apples and Krispy Kreme
Regardless if you are dining, taking a cab, the bell boy that helps you with your luggage, room service…. etc… Can you imagine how much I have to spend on tipping per day? For example when you are dining, the rough calculation of tipping is 15% of your total bill. Let's do some simple calculation *searching for calculator*. Your bill is $30 x 15% = US$4.50. After conversion, that is about RM15.75 *ding! ding! ding! ding!* Of course you can walk off without tipping. But will you do that?
Stuffed Portobello
You can escape paying tips in restaurants but one thing for sure you can't escape is "The Mr. Cab Man". In fact, they ASK you for the tips. Minimum US$5 also. Another RM17.50 *ding! ding!ding! ding!* To Malaysians (x 3.5), this is like broad daylight robbery!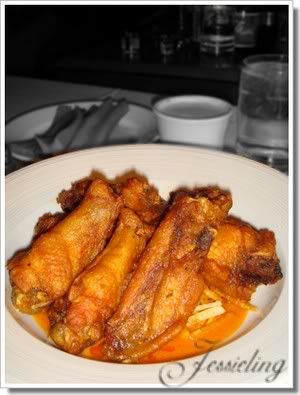 Spicy Buffalo Wings
Finised bitching liao. Sorry if I've offended any Amelicans, but really hor, if you come to our country, no need to pay tips wan. The most when you settle your dining bills, leave them those cents and coins for tipping. No one is going to curse behind your back like how we get cursed, "Cheapskates!" Almost makes me wanna shout back, "Baskets!"
This time really finished with my bitching liao *look left, look right for any rotten tomatoes and eggs*
My favourite outlets in Las Vegas is Premium Outlet.
I can't be sure if this is your ideal shopping place. It all depends on what you are looking for – Coach Bags, French Connections, Ann's Taylor, Osh Kosh B'gosh, Gap, Guess, Levi's, etc… I went there 3 times and each time I've never fail to leave empty handed.
Let me bitch with you something good about Amelica this time. I love their "Goods Refundable" or "Goods Exchangeable" policy.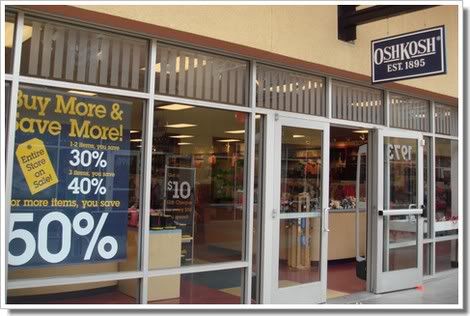 I was in Osh Kosh B'gosh. It says on the banner, 4 or more items, you save 50% on store wide item. Therefore, I've grab 6 items from the store – 2 normal priced, 3 further reduction and a pair of sandal. After paying, I've realized 'further reduction' item is not included in the promotion. Which means I'm entitled to 40% off. That is a lot of difference in currency if I were to convert back to Malaysian Ringgit. I walked back to the store, explained that I've overlook on the promotion and if they could allow me to pick up another item so that I will get 50% off instead of 40%. I was glad they allowed me! I quickly went and grab a US$10 t-shirt. After working out my new bill, not only I get another piece of t-shirt, I got a refund of US$3 for nothing! See, if you ask you will get.
There's another similar incident. On a Friday, I bought a Guess watch at 40% off and didn't notice there's some scratches on the metal bracelet. The next day I went back for a goods return or an exchanged. Since they are out of stock for the design that I've bought, I decided to grab another design albeit higher price. And since it is a Saturday, their watch is at 50% off! Which means, I don't have to pay the balance and still get some refund!
See! Now you know why I'm such a happy shopper.
Ok. So much bitching for today's post.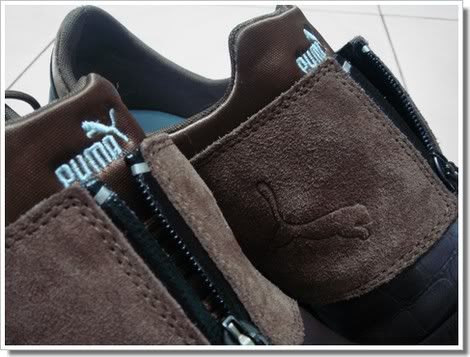 I was told, Americans prefer Puma shoes and I bet, you won't meet any Malaysian wearing this design of Puma shoe! If you can prove me wrong, at least I'm glad there's someone other than me is having a sense of good taste 😉
… Go back to read Day 10 in Grand Canyon here
… proceed to read Day 12 Red Rock Canyon here