… every Tom, Dick and Harry will claimed that they know you. Even if they can't recalled seeing you, most important thing is you know them. Ngam mou? (correct or not)
If you remember a while ago, our former Ms Malaysia aka ex-Mrs KRU was on the front page because of some scandal thingy with Engku Emran. Ahem! That Engku Emran used to be my ex-school mate. Really wan. No bluff you wan. During school days, he is a hottie among girls and ahem… changing partner like changing clothes. Enough about his scandal. So I was like so proud lidat when someone I know is now a famous celebrity or rather the CEO of Suria FM. You may think I am boasting but nevermind la. The title tells it all.
Got one more famous people. If you are in food industry, you might heard of Chef Raymond Siek. I've blogged about him sometime last year when I visited him at The Datai, Langkawi. Few days back, he did an ice carving for charity some where in Langkawi shopping mall.
Thought wanna share with you guys his achievement and to show off a bit la.
I was amazed by his talent and creativity. It is not easy to have the ability to carving an ice block. During our childhood days, we used to be the notorious type. Never serious in our studies. And today… we are much an achiever. (*ahem).
Beside the ice carving, they entered the Guinness World Record for making the longest roti jala measuring 500meters.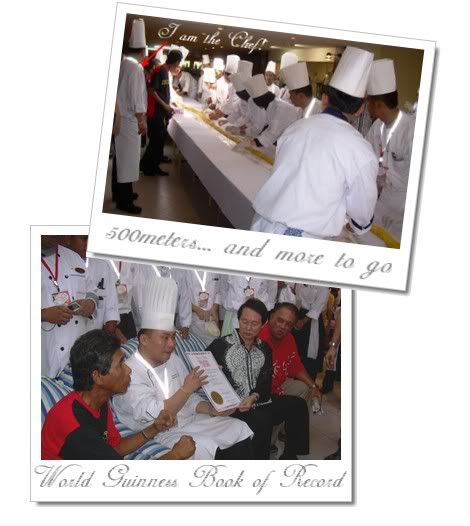 errr… roti jala only wat. Where's the curry chicken? I want the biggest pot of curry chicken!!!!
There is something about man in white. Not sure if it's just me, but I find them very………………. (please filled in your own words)
Ok. Enough publicity of him. So, Sitiawanese sekalian, come and make some woof whistle. I'm sure you know him 😉