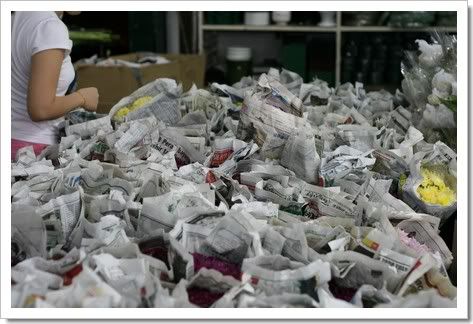 Do you know there is a wholesale florist in Petaling Street that sell lots of beautiful flowers? Don't know about you, I just can't part with flowers. I will go crazy when I see one. When my 5th Sis, Julie, told me that she is going to Petaling Street to buy flowers for Cheng Beng, I just jump at the opportunity.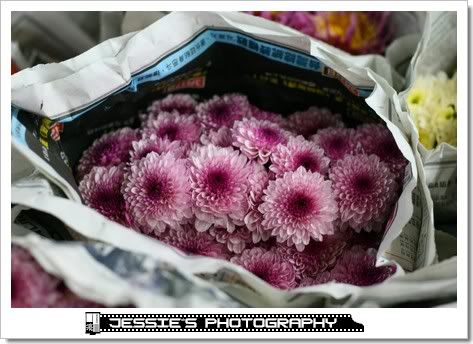 You may think that Petaling Street is so far but if you intend to make bulk purchases, it is worth the money. This is only one of them. They have tons of colours and many other types of flowers you will be so spoilt of choices all you want to do is buy every each one of them.
Okok, to make the long story short, I only bought one bouquet for my late MIL. I think my Sister bought 6 or 7 bouquets.
Warning: If you have the ability to see ghost, please do not proceed. Or you can proceed at your own risk. Don't tell me I never warn you.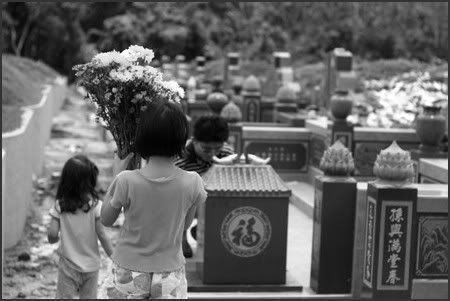 Change image to black & white just incase some think it is eerie.
Saturday afternoon I beg hubby to fetch me to his late Mom's cemetery. Ever since she pass away, I have not step foot on her cemetery before. Not only I have to beg, I have to scared him with this, "You not scare your Mom angry with me issit? Later at night she come and find me. How?" Haha.

I still like coloured photograhs.
Being a Christian, we just pray without joss stick and place flower. I hope MIL won't mind. I know she won't. She is the nicest MIL in the whole wide world (or at least better than some of your MIL *sticking out tongue*) It is very funny how I get this question, "You take photo at a cemetery. Not scare ghost ah?" Errr…. broad day light wor. I thought ghost come out only at night?
This little girl…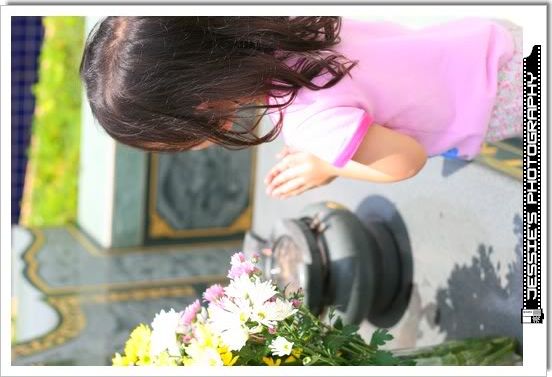 She has not seen her late Grandma before. She was only 26 days old when her Grandma passed away. And today, she told her Grandma, "Today is my birthday, Grandma".
Sorry, tears just rolled down my eye. I need to stop here.