The night starts with a word of Grace from my Dad. His prayer never fail to touch my little heart as it is always a touching, meaningful and a sombre one. This year he seek God's guidance over the little girls and boys (i.e. his grandchildrens).
This year our theme is red. I love RED! Somehow, Dad turned out wearing green. lol. He looks like a Christmas tree surounded by red ornaments 😉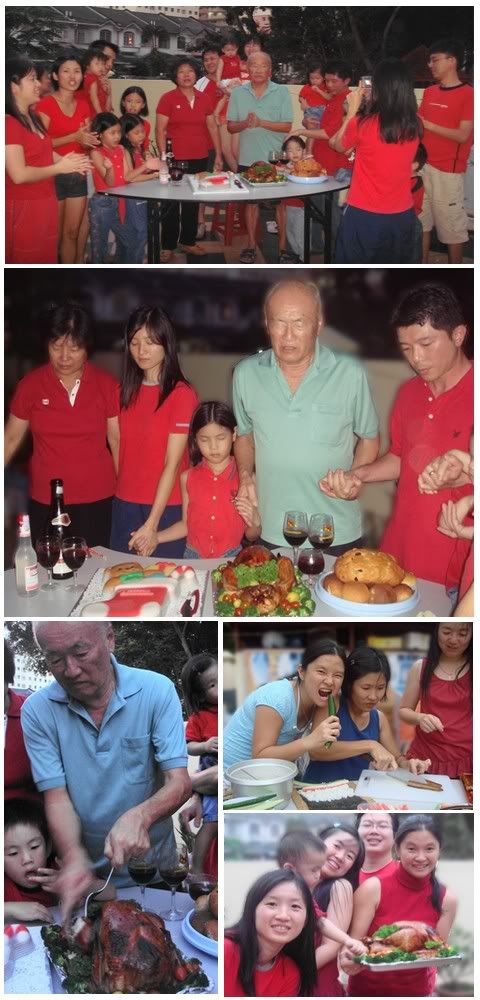 Dad carved the Turkey to kick-start the night with lots of makan-makan, games and we had so much laughter, the next day I woke up having a bad throat. Wah liao.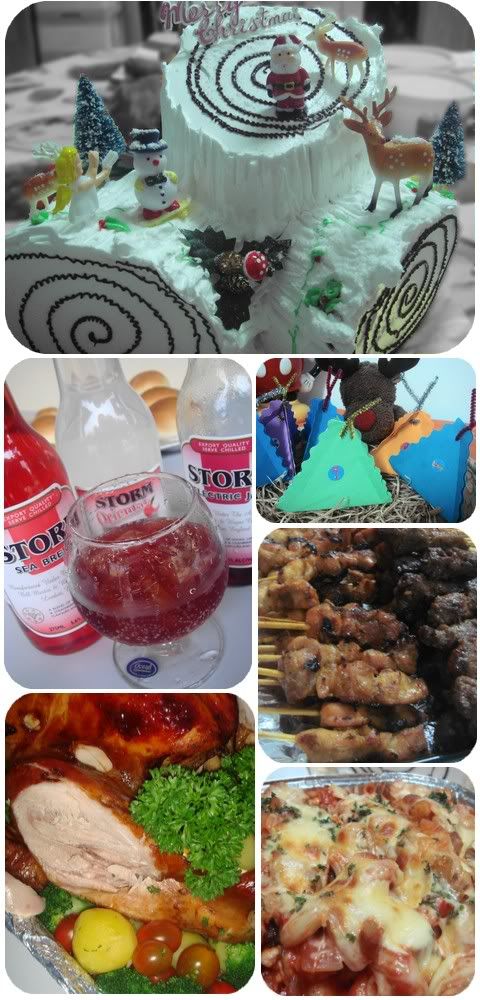 What is not in the picture – Mom stormed up a sinful pot of home cooked asam laksa and poh piah (spring rolls). Of course the skin is not homemade which we bought from the market. Eldest Sis bake buns to go with the turkey. It was marvellous minus the preservative. We rolled some sashimis and it was the biggest hit of the night.
Fifth bil dressed up as a Santa Klaus and caught the kids by surprise. Lots of screaming from the older children and lots of squeeking and crying from the younger ones.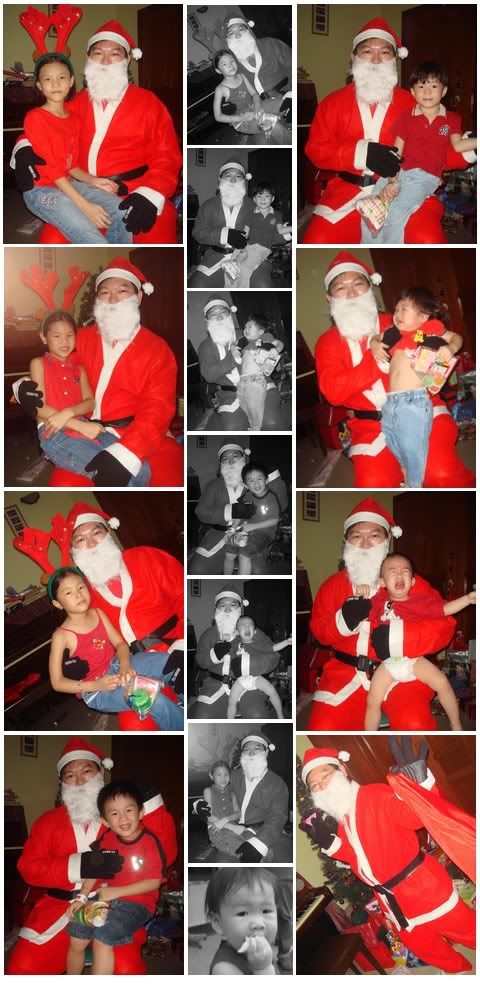 It's all for fun but I think we had a cool father santa as he is wearing a black winter gloves, white bedroom slippers and…. his bump is as huge and fleshy as the actual santa! Wakakaaa…. It's so huge, Dad actually went and gave him a pinch to see if it is real. *rolling on floor laughting out loud*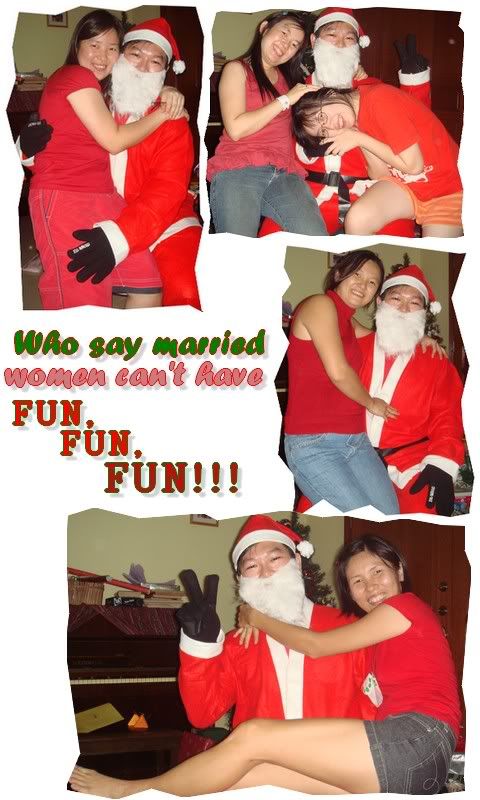 Little children crowd santa for sweets but there are some women really going nuts over santa! They are all over him. Firstly it was Mrs Santa. Next came the twins on each side of Santa's lap. Aiseh, The Queen had put on so much weight. Look at her arm and tai pei :shy: Then came tai kah jeh out-does everyone by jumping and landed on Santa's lap. Geee…. he must be the happiest Santa on Earth that night. Isn't it a good thing to be a Santa after all? 😉
The night end with gift exchange. What is counted is the thought and not what we get, or the size or value that is. I would love to post up more pic but connection is really sibeh slow can die lidat at my side as I took 3 days to upload my pictures 🙁 Boohoo.
I would think Christmas isn't Christmas without the company of your loved ones. There's another song I love to sing and each time when I sing that, it makes me tears in emotion…..
Christmas isn't Christmas,
till it happen in your heart
Somewhere deep inside you
Is where Christmas really start.
So give your Heart to Jesus
You'll discover when you do
That isn't Christmas
Really Christmas for you.
Hence, by the time I posted this, the tree is back into the dark, spooky and dusty store room waiting to be decorate with sparkles in December. It's the New Year ahead with lots of busy schedule again. Not sure about you but I do! Have a blessed New Year *muaks!*