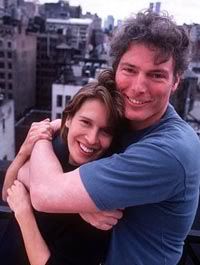 We all know that Dana Reeve, a singer-actress who gave up some of her own career to be one of the nation's best-known caregivers to her late husband Christopher Reeve the one-time Hollywood Superman who went through his decade of near-total paralysis after a 1995 horse-riding accident and died in 2004.Dana Reeve was a constant companion and supporter of her husband during his long ordeal. She's there with him 24/7 anywhere and anytime. After losing her husband, another challenge fell on the shoulders of Dana Reeve as she battled lung cancer.
She had her share of adversity with the deaths of both her husband, Christopher Reeve, and her mother, within a few months of one another. Pretty much similar to our Prime Minister when he lost his beloved mom and beloved wife.
It's been more than a month since her pass away I only spotted her news today while doing a google search on Superman. Funny that it's been pretty low profile about her death. Not sure if it was just me.