I can't help but to bad mouth MAS one more time cos I really beh kam muan at them. If we cancel the flight, we have to pay penalty. But when they cancel the flight, what do we get? NOTHING! Instead of leaving on 26th 9.30am flight we have to leave on the 25th to Singapore by Silk Air, therefore, catching Singapore Airline flight at 1.15am. So wasting our time, right?
We managed to settle the kids when they came home from school at 7pm before rushing off to the airport. Prince is as usual, purring at Daddy while Daddy was showering him. One word that cracked us up was when Prince said, "…. but Daddy, you must buy me surprise from Beijing, ok?" Mengada betul budak tu. The one I really have difficulty leaving behind is Baby Princess. She has been down with food poisoning 2 days ago – vomiting, dirrhoea and now catching a fever. Really felt bad to leave her with my Parents. That is why I was so mad at MAS cos we have to waste our time with all those transit in Singapore.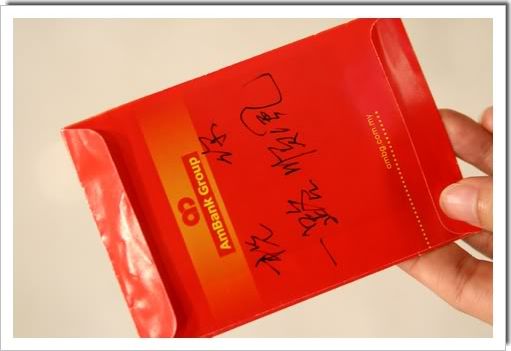 "Yi Lu Suen Fong" – Have A Safe Journey
Before we left home, my Dad gave us an angpow each. Really touch my heart. Initally, he refused to accept the allowance I gave to him but I insisted and shoved them in his pocket. In return, he gave us a blessing. What's more can I ask for *snif*
Hubby was driving at 160km/h as we was running really late (1.5hr before check in time) and we took only 20mins to arrived KLIA. I know this is nothing to be proud off. He kept on saying, "It's not me la, it's the car!" Asif!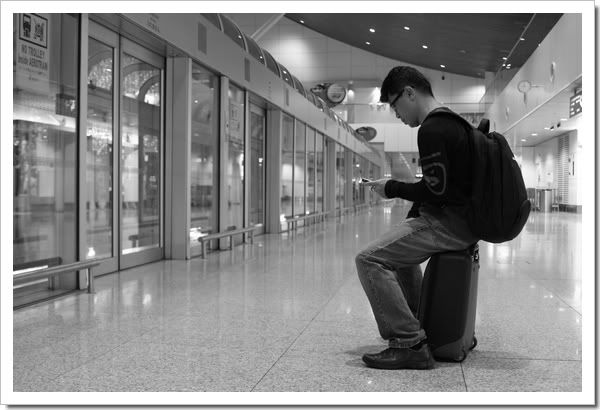 I have to tolerate Daddy's numorous phone calls as this is his working trip actually. Took this in KLIA while waiting for the Aerotrain to arrive.
Upon reaching Changi Airport for our transit to Beijing:
You think he is still alive?
Flight was good. I wish it was a longer flight as 6 hours journey is too short for a nap.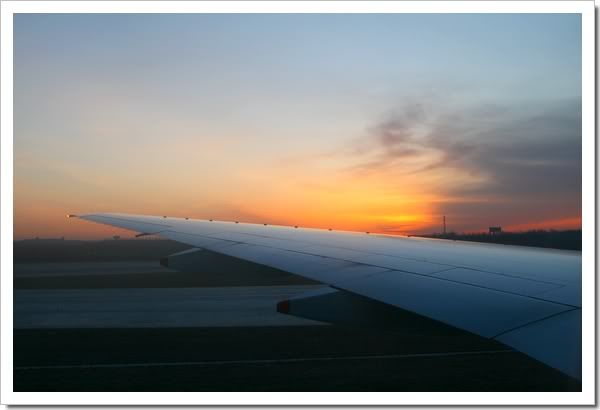 Sunrise in Beijing Airport the moment we touch down. Typical China man get up from their seat while the plane was still taxing.
Coming to this best part where the hotel was supposed to send a Limo to pick up Daddy. There wasn't anyone seen at the airport so Daddy called the hotel and was told they wasn't informed of our reschedule flight. (Now you know why I kept on badmouth MAS!) Partly was because of some miscommunication somewhere between the hotel & his Sexi Secretary too. But we was told there are someone at the airport picking up some hotel guest and ask us to look out for placard 39 Dragon. No one insight. We was at a total lost and finally when there was fewer passenger in the airport, we spotted a guy holding this: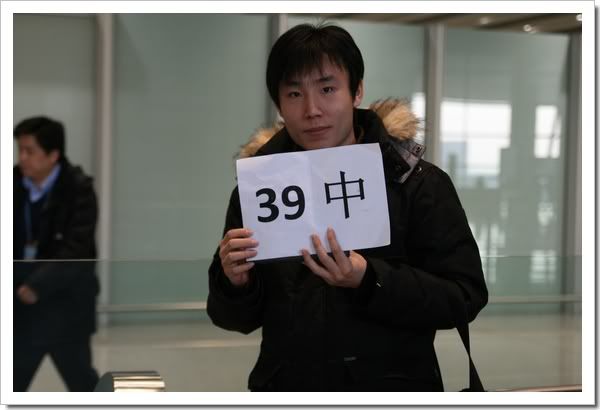 39 Zhong = centre. So Daddy just tried his luck and bingo! He is picking up guests to The Westin Hotel. We are still puzzle with the placard. What is 39 Zhong? He checked his notes again and our name is not in his list as he is here to pick up 14 passagers that is arriving in another 20mins. How can that be? Since he is heading to the same hotel, we might as well wait for him to hitch a hike. That was a good one hour before Daddy's handphone rang and was told the Hotel Limo has arrived to pick him up. Woot! You see la, he always complain of work but to me, he is treated like a King whenever he travels for business. Limo wor. This is my first time sitting in a LIMO! And Woot….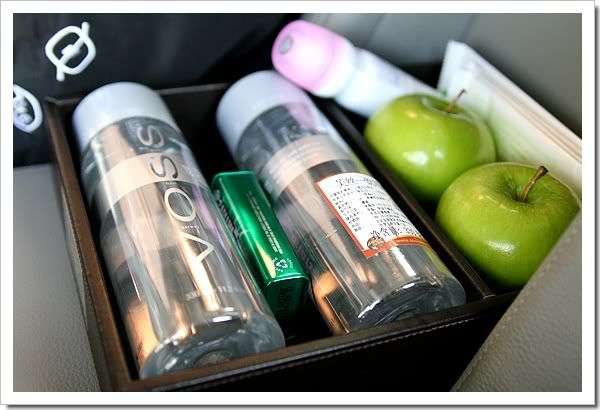 What a pampers! Free thing wor, take la. I took the 2 mineral water as I like the unique bottles and also the Evian face spray for my hydrated skin. I'm not fond of mints and I'm so kind to leave them some granny smiths apple. kekeke…. In my heart I keep on thinking, "Dang, he get pampered on his working trip and I have to suffer at home. Life is so unfair!" Not only that, the driver was accompanied by a hotel staff that kept on apologizing to us and they was so sorry to make us waited for an hour in the airport. They moment she said they are upgrading our room to Executive Suit, I have to tahan not to smile so cunningly. Hence why I get to blog for free now and even dine at their Executive Lounge. *cough* Don't even get me started on their bathroom fixtures. Sparkle like a diamond and they had a big shower head called 'Rainforest' shower. Go imagine that!
You think this is the ending? Not yet. Read on. At about 3pm, the event manager, Alice came to our room to deliver personally some meeting stuff to Daddy and once again she apologize to us. She asked me to choose anywhere that I'd like to go and the hotel Limo will chauffeured me around during Daddy's absence (meeting la). NO WAY! First of all, I am too shy with strangers and secondly they have given us such a warm hospitality that I am too shy to accept. Since she insisted, I told her that I'll like to go to The Great Wall of China. That is the only place that we have to hook up with the hotel tour as the journey is about 1 hour from the place we was staying and cost us about RMB800 (RM400) per person. Now I managed to get them for free. Why not right? I think The Westin Beijing, Chaoyang deserved a mentioned here. This hotel is also where George Bush was staying during the 2008 Olympic Game.
This wrap up some rambling before the tour kicks off. And today I learn a new word. Winter clothes is 'tong tien yi' and not 'lern yi'. You don't ask for cold clothes right? *sigh… so embarassing can die!