This is my first time attending a Bento Party! Or was it the first bento party ever held in PJ/KL? I doubt so. We had a marvelous time on Saturday. All thanks to Patricia and Emily who take the effort to organize the party and they even took the trouble to held a little competition for us. All together, there is 21 participants + 2 organizers.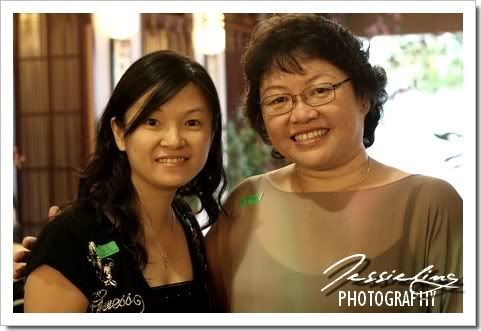 Yours Truly & Patricia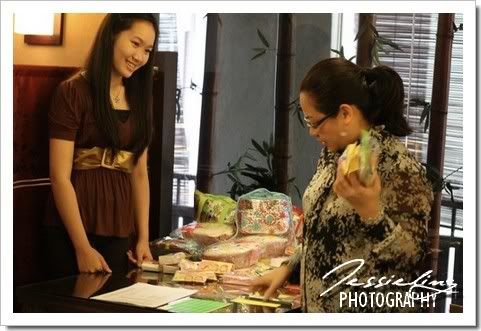 Patricia's 16 y/o *ahem* Daughter & Emily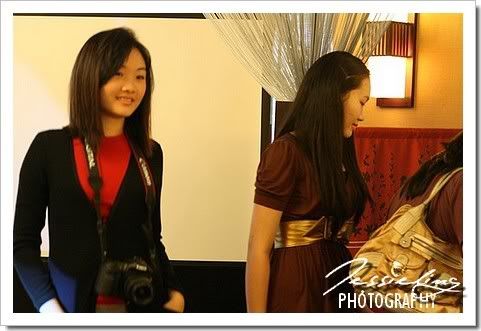 Patricia's lovely Daughters aka Official Photographer *ahem*
I must say a big thank you to Sue and other contributors (sorry, don't know who else contributed the item) as all attendees was given a goodies bag filled with stuff like Clinique samples, Kikkoman soy sauce, cookbook, popcorn, cookie & sausage cutter, bento box, cake-mix, etc.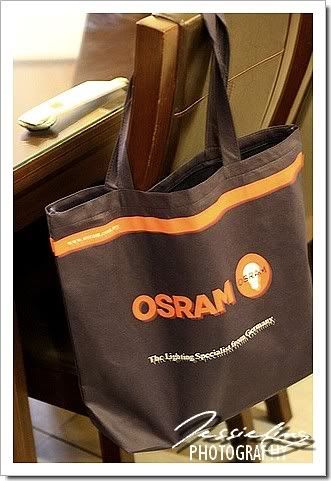 Frankly speaking, I do not know who's coming and who's not. I was hoping I do not ended up staring at the ceiling and was hoping to meet someone familiar. I was glad Sue from Cooking Momster and Christene from All Things Purple sat right opposite me as co-incidentally they are the only two blogger that I know.
The thing that excite me is the cupcake. They was bought/contributed by a food blogger from Ipoh. I need Pat to confirmed om this.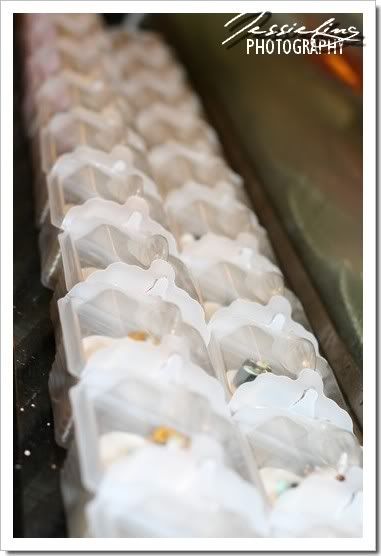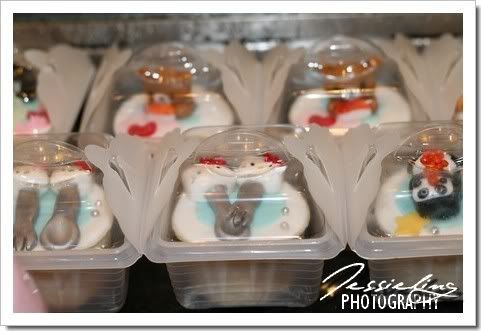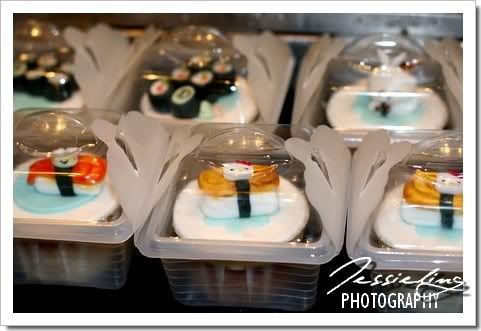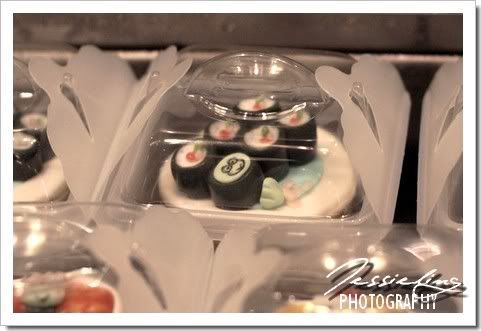 Look at all those cutesy sushi cupcake. So adorable can die!
Food from the buffet spread.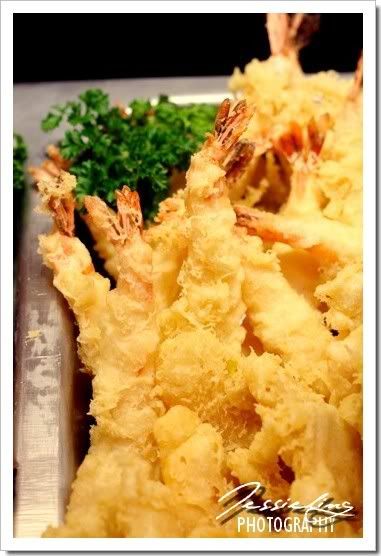 I hearts tempura prawn! Too bad everyone is only allowed to take one. The bento competition goes like this. Everyone put some food from the buffet spread on your plate, then goes back to your place and pack the food into a bento box that is provided to all. The best presented bento win a prize.
And the competition starts with everyone taking 4:3:2:1 – 4 portion of rice, 3 pcs of chicken, 3 pcs of maki, 2 tempuras and veges.
Contestants was seen busy with their masterpiece.

Terri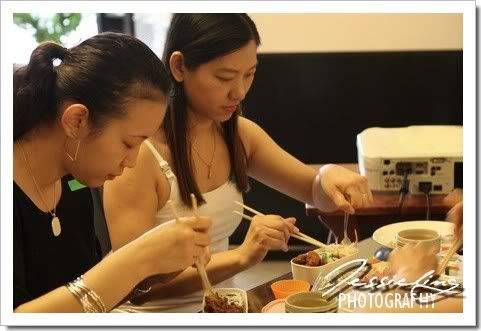 Forgot her name. *paiseh* & Christine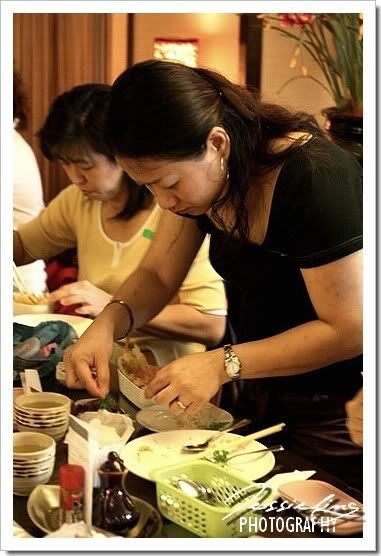 SueSue
Packed food was then photograph for judging later. We then ate what was packed in our bento box.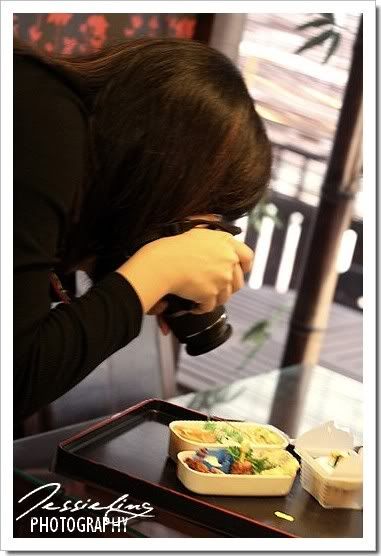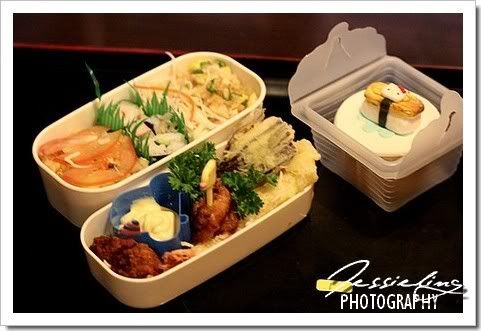 My Masterpiece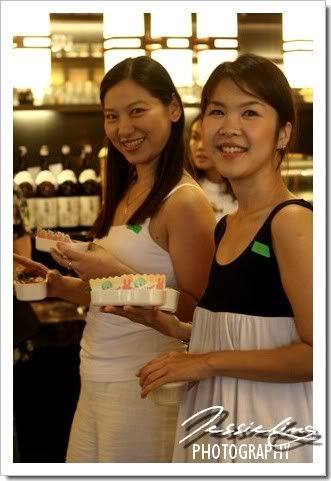 Christene and Terri waiting for their masterpiece to be photographs
While I was processing this picture, my daughter exclaimed loudly, "WAH!" She said that really loud!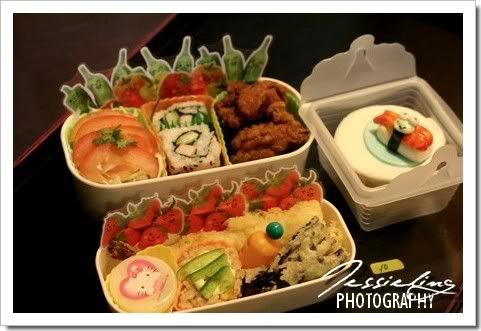 I was jealous cos Daughter never Wah that loud at my bento! Fyi, this bento belongs to Christene. Nice right? Full of accessories like baran, sauces bottle and silicon cup.
There are lots more other bloggers sited on the next table. The place is a bit squeezy to move around so I better sit kwai-kwai plus I was kinda shy to go round snapping pictures plus, plus the place is too orangy! I really hate photographing under orange light.
lalala… I am so out of words today.
lalala… I think I shouldn't continue writing rubbish.
lalala… Gave kids the cupcake instead. And guess what?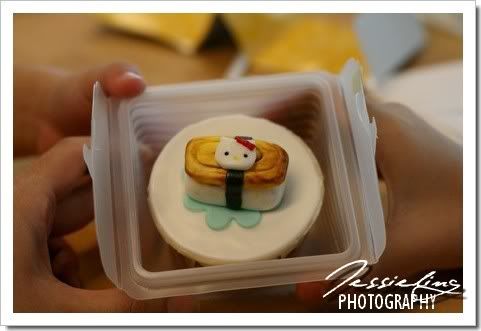 Biasalah tuuuuuu…. who can resist cutesy things?