I was trying to squeeze in this post many times but always get busy with other matters.  When I look back at the photographs now, some of the kids has grown more matured like my Prince Charming aka Prince Carlgene *cough*. Last year (26 Dec 2008) during Christmas, we went to Spice Garden since we are in Penang.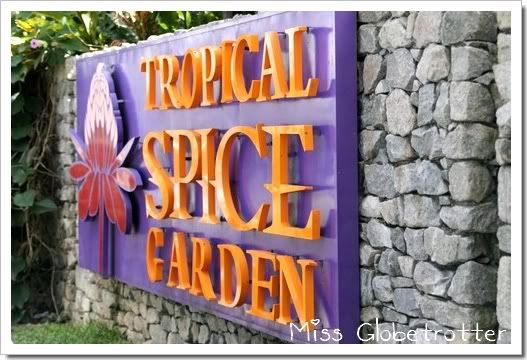 Admission rate was charged at RM35.00 for 2 adult and up to 3 children.  I feel the price is way too expensive for a little garden like that.  Nevertheless, her are some of the pictures i took: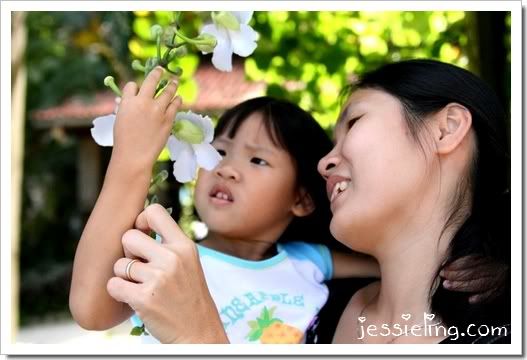 Eldest Sis with Jasmine admiring a dangling flower right at the entrance.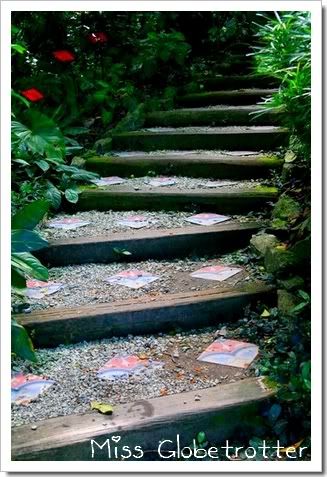 They claimed that they have more than 200 type of spices in the garden.  However, I do see a lot of screwpine leaves (daun pandan) only.  The rest *shrug*.  And the whole place smell so fresh.  It took me quite a while to guess the smell.  Alas, they are lemon grass (serai) and no.  Not from the fresh plants but they are the lemon grass flavoured mosquito repellent.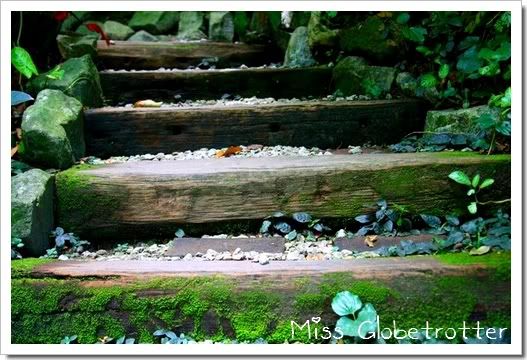 Spot the green leafy plants? They are called daun kadok another type of betel leaves (daun sireh) used to cook otak-otak. Penang otak-otak rawks! I don't like the Johore version.  And guess what I've spotted?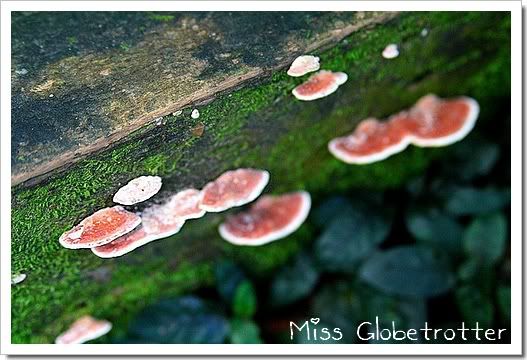 Wood fungus!  aitelyu, sometimes I get so mad at my Tamron lens.  They are always out of focus and they like to focus object next to it.  It happens so many, so many times!  Now you see why the wood moss is sharp but the fungus is blur.  Haiz…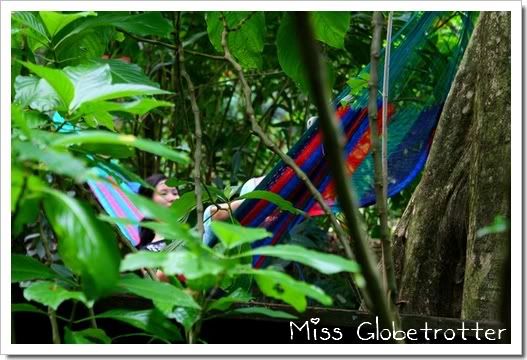 I love this picture of my Eldest Sister swinging on the hammock. The place is so serene and cricket chirping is like music to my ears. Only one thing that I am afraid of… SNAKES! Or lizard!!! Or whatever that has 4 legs!!!
While busy playing photographer for my Sis, my Prince Charming called out to me and when I look up, HOLY MOLY!
This is one huge giant swing that I've ever see before!
See my Prince Charming?  He look so babyish (to me he is!).  Maybe it's his hair style.  Ever since school started, he has been wearing that army spikey hairstyle that I never like.
Various plants around the garden.  They are not spices.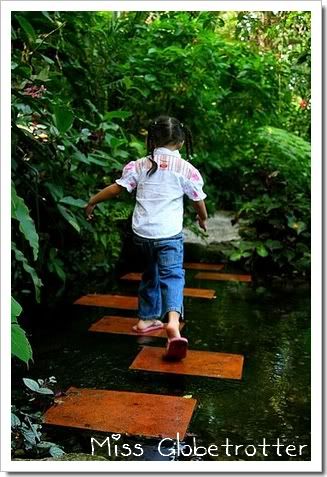 The four older children are born just month apart. Can you imagine that year, my mom's house had 4 babies?  The little boy in stripe is an intruder!  From left to right:  Jean Suen (2nd Sis), Jasmine (1st Sis), Daniel (3rd Sis) and Kharlette (My Little Missy and I'm 4th).  We did not plan this.  It just happen!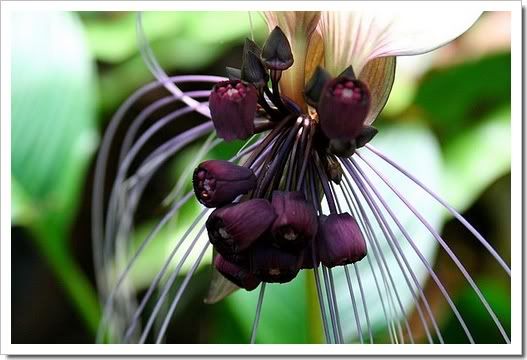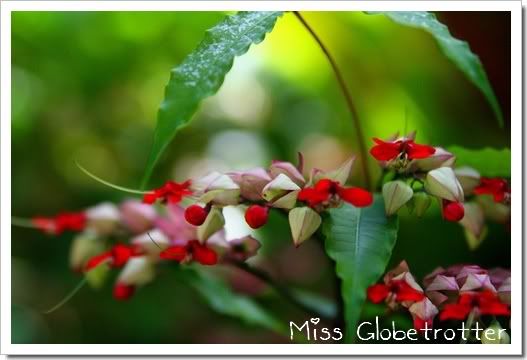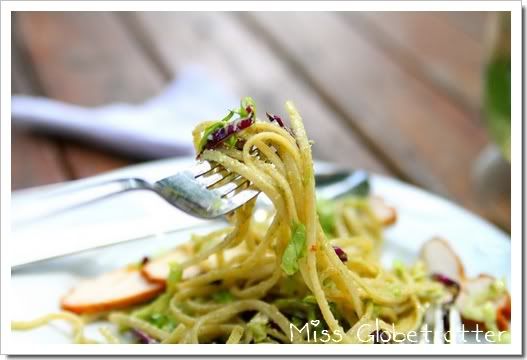 The spaghetti sure taste good cos by the time I'm done with photography, they are all gone.

ooo… this one must try if you love lamb.  They are very delicious!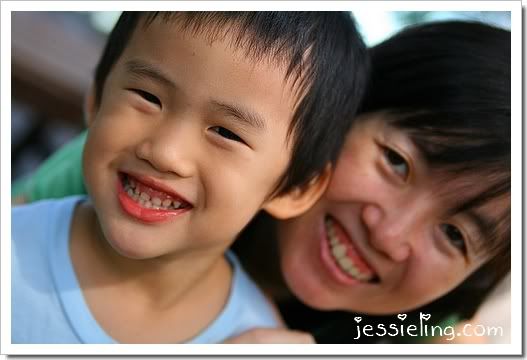 3rd Sis with Daniel.  Sis said Daniel hardly smile for the camera.  I think this photo deserved to be publish 😉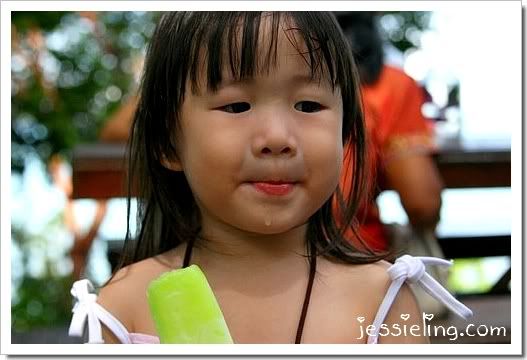 Jean Suen – Drooling man!

Food photographs not shown are some cinnamon drinks and ginger tea.  The spice cookies rawks too!

Very cosy ambiance at the cafe.  A blend of zen, western and oriental which makes them looks… to me, not nice la!

This is the Gents'.  The door is so ancient looking.  I do hope everything inside adhere to the standard bathroom safety.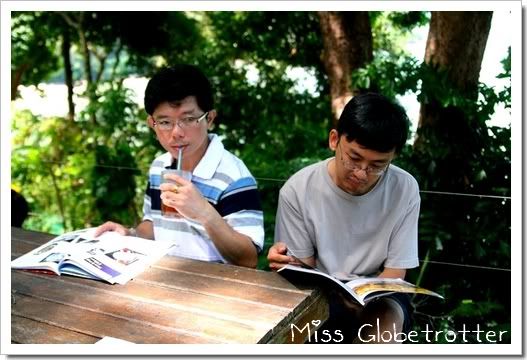 Very shady and windy place for a quiet reading too.  In the evening you may catch a sunset.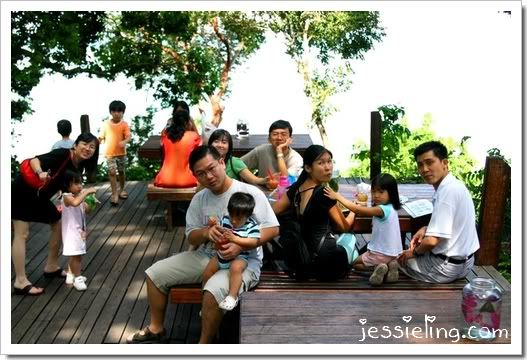 The whole bunch of us.  Over looking are the sea.  Don't know why my sea is badly over exposed.
Check out more pictures at my Facebook.