This is really a miracle. Through Facebook, I met a very very old schoolmate and we used to attend Sunday School together back then. The funny thing is when we was younger, we hardly even talk to each other or none at all. He is from the 'genius' group and I am from the 'not-so-genius' group. Meaning, these 'genius' people always came out top 10 in position but the 'not-so-genius' people like me is considered lucky to came out top 200 in school. In another word, this 'genius' group of people hardly cross the border to take the initiative to make friends with us or even strike a conversation. To make thing worst, they might not even notice you in school. So we syok sendiri aje la. LOL!
His family migrated from Sitiawan to Perth when he was 15y/o and I never heard a thing about him after that. Surprisingly after 18 years, we met each other through Facebook again. So, who is the ice breaker this time? Of course the one syok sendiri wan la. Obviously he can't remember me or even have any impression at all. We chatted quite a bit on and off catching up with each other, updating him on things and people (ex-school mates) that I know and guess what? Let's put it this way, we have became best chat buddy *cough* after that. This is to prove one thing. To excel in school or not, one day when we grew up, that is not important and should put behind us. There shouldn't be any barrier in friendship. Enough of grandma stories.
Want to meet today's guest of honour?
Everyone say hi to Ian.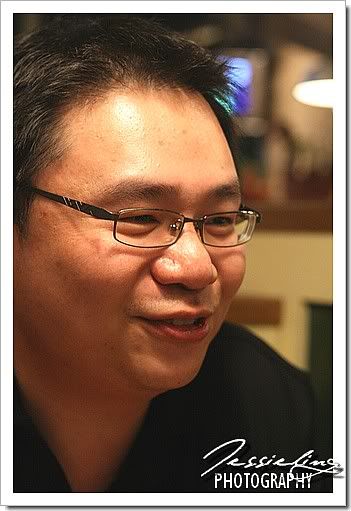 Ian, say hi to everyone.
Few weeks ago Ian came back to Malaysia to renew his passport and we met up for the first time after 18 years. 18 years man! That is quite a big number there but it seems like it was just yesterday that I've last saw him in blue shorts and white shirt. Amazing!
Another ex-schoolmate decided to join us too. Same case, she left the little town of Sitiawan at the age of 15. Wanna meet the alibi for that day?
Everyone say hi to Azura.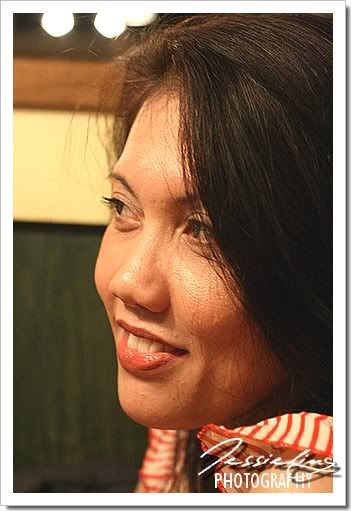 Azura, say hi to everyone!
Azura belongs to the 'genius group' too but she is not the arrogant type. We talked a lot in school and we still go crazy over NEW KIDS ON THE BLOCK. Not! She is one modern Malay girl and obviously my type. We had a great day eating, bitching and catching up.
Itu je. It is quite amazing to meet long lost friends after 18 years.
On an unrelated topic but to me still related la. While I was playing 'tourist guide' to Ian, we stumbled upon a very interesting foot reflexology in Midvalley. The Garra Rufa fish foot spa has been an 'in' thing nowadays. Since we have nothing much to do, we decided to gave it a try.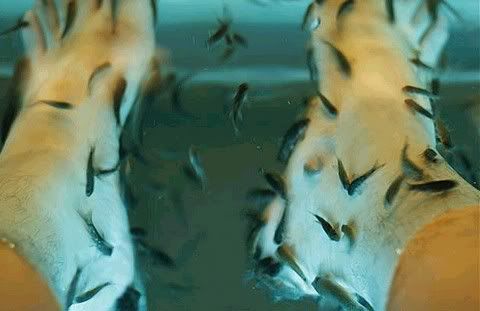 Fyi, that is not my foot!!!!! I don't have such a long hair growing on my leg!!!!
Ok, I am much better now. Back to the foot spa thingy. If you happen to be in MidValley, why not have a try at Kenko Reflexology & Fish Spa. We just did it for fun and out of curiosity. Not a bad thing after all having your foot nibbled by fishies. For a moment, we felt like out foot has turned into some sort of pet supplies. The fishes attacked you in school.  It was quite discomfort at first but we soon started to get the hang of these nibbling.  It is quite therapeutic I would think. Those tiny fishes you see in the above pic is nothing. You should try the big ones. And I mean really big! Bigger than Ian's toe!
I know you just scrolled up to see how big his toe is. Too bad, his toe was cropped. Muahahahaha!
For a 30minutes session, RM38 is not cheap but it is definitely worth the experience.  The whole 30minutes fish spa included a routine of occasionally leg lifting (hey, this is part of Yogaing), lots of squealing and controlled giggles. The end result – the skin is smoother and cleaner especially on the back of the heels.  I would advise you to apply some moisturizer after the session.  Not sure about you but I do felt my skin is a bit dry from all the nibbling. I would return for another experience, simply because it is such a bizarre and amusing way to have my legs exfoliated.