Ingredients:
400gm Glutinous rice
1 tsp turmeric powder
Salt
20 white peppercorn
2 cinnamon sticks
6 cloves
2 pandan leaves, knotted
100ml thick coconut milk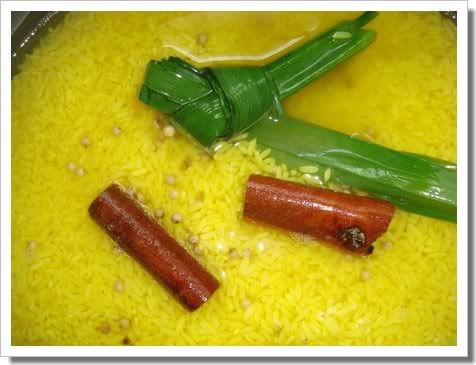 Method:
Wash and soak glutinous rice in water. Mixed turmeric powder, cinnamon sticks and 1 tablespoon of salt for five hours or more.
Drain well the soaked rice, then place in a steamer with peppercorns and pandan leaves and steam for 15 minutes.
Remove the steamer and add 1 teaspoon of salt to the coconut milk before mixing it to the rice. Mix well then steam for another 15-20 minutes. Fluff up the rice and continue steaming for another 15 minutes.
Remove rice from steamer and set aside to cool.
The result? Mine failed cos I cook them in the rice cooker. Note in mind: STEAM them! No finishing picture too as the photographs turned out VERY unpleasant looking it deem unfit to be posted in jessielingdotcom! At least not to my standard la.