I felt loved when Lian spread her love to my blog. Thank you so much Lian and I am so sorry to kept your love for so long. Ya, ya, I know I am selfish *sticking-out-tongue*. It's time for me to spread the Queen's love to all….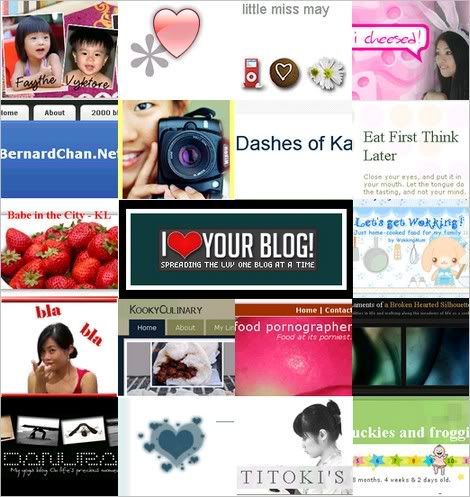 jutz1BlogisanyoneOuttherelittlemissmaycheeserland.comBernardChan.NetChristine
DashesofKamkuey EatFirstThinkLater BabeintheCity Let'sgetWokking! BlaBlaBlaBlaBla Kookyculinary Thefoodpornographer TheLamentsofaBrokenHeartedSilhouette
Danurasana Oliviasy Titoki'sSecretDiary ofduckiesandfroggies
After spreading my love around blogsphere, it is time for me to pass down some awards given to me by BlurMummy. Thank you once again, Sweetie.
The originator of the Nice Matters award states that it is meant for "those that are just nice people, good blog friends, and those that inspire good feelings and inspiration! Those that care about others, that are there to lend support, or those that are just a positive influence in our blogging world!"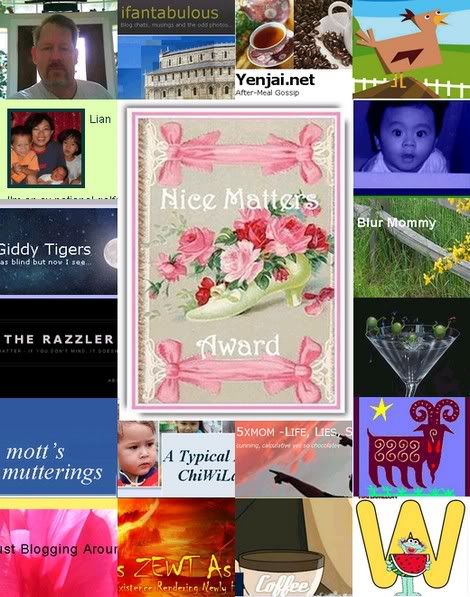 SimpleAmerican ifantabulous Yenjai.net Annie'sDoubleTrouble MamasbagofTricks Hishgraphics GiddyTiger BlurMummy theRazzler GroovyOlives Mott'smutterings Chiwiland TheObnoxious5xmom PlanetKambing JustBloggingAround AsZewtAsItGets Dakotaism.com Wuching.com
After listing 36 Bloggers, I still have a handsful of nice people, good blog friends, carrying friends, positive friends out there. It's impossible for me to list everyone down. So if your name is not here, please don't get offended ya?
By the way, for all the bloggers that I've penned down your name here, please pass your love and awards ya?