Today marked the first day of school after 2 weeks of school break. I was so tired that I can't drag myself up from bed to prepare anything for the kids. One reason is because of the petrol hiked price. No motivation to go to work even and I almost didn't want to update anything in my blog. Since morning, I just wish that the hiked price is just a dream. And that calculator keep on showing me the same figure. That figure! Even after the rebates of RM625.00 from the Government, I still need to fork out RM1.2k extra per year. *sigh…
Back to the topic, this is post dated Bento box I've prepared for Hubby since the kids is having a 2 weeks school break. The night before, I was thinking what type of adult food that is suitable to serve in a bento box. Since I have tiny (very very tiny) anchovies which I've bought from my previous trip to Pulau Ketam and organic cucumber lying in the fridge, I thought maybe I should prepare some 'fake' nasi lemak.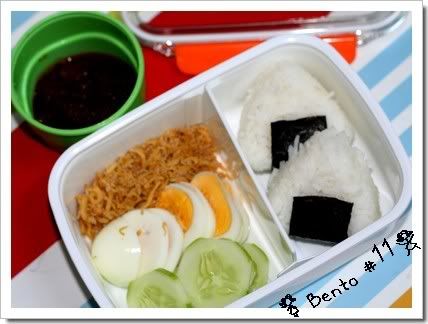 Rice – coconut milk = 'Fake'
Which is the factor of a good nasi lemak? Should it be the perfection of rice or the sambal. I would say the sambal. However, the sambal didn't do justice in the pic. I had the anchovies fried in oil till crispy and drizzled with some sugar. I couldn't find a tea cup as the mould for the rice so I just the triangle onigiri.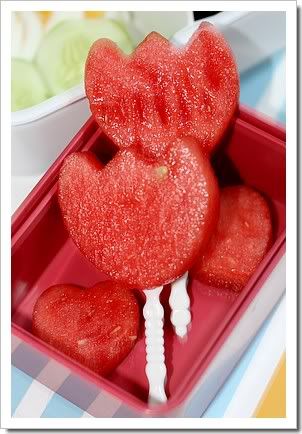 For dessert, we had tulips watermelon. So childish can die!
For my portion, this is how my bento looks like.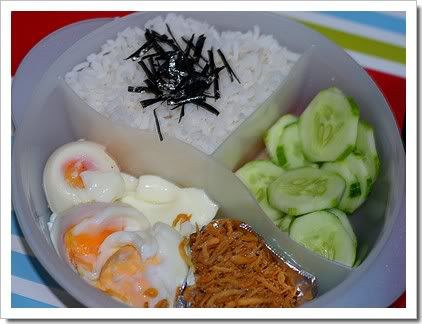 I had a bigger serving cos this is gonna be my brunch. And that eggs…. this is resulted from the morning upside down timing I just love it like that. All mushed up! *bluek* Didn't include the sambal in this pic cos I know they won't turn out well.