In chinese, alkaline dumpling is also known as kan sui jong (cantonese) or kijang (hockkien). They are not savory like bak chang. Usually alkaline dumpling is dipped into caramelized palm sugar or kaya. They are easier to make too. This is how you do it:
Ingredients: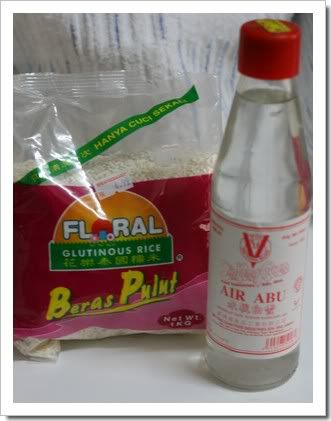 500gm Glutinous rice
3 teaspoons Alkaline water (air abu/kan sui)
Small Bamboo leaves
Another 2 teaspoons of Alkaline water
Method:
If possible, buy the glutinous rice from sundry shop and not the one like I used above as those branded packaging is not so pure. They added some rice into it which will later resulted a harder dumplings. Wash throughly glutinous rice. Soak them in clean water with 3 teaspoons of alkaline water added. I soak mine for 6 hours (9am to 2pm). The colour will change yellowish instantly.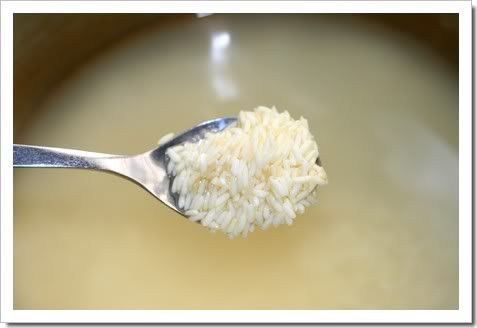 As usual, wash the bamboo leaves and the string. Discard water from glutinous rice and you can start to wrap the dumplings. Place 2 bamboo leaves back to back. Shape them into a funnel using one third of the length and work your way up.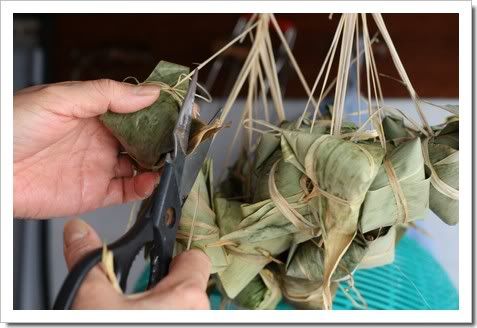 Cut away the hard stem on the glutinous rice. You know making dumplings takes a great deal of skills, patience and free time but of course practise makes perfect too. Filled up a big pot of water enough to cover the dumplings. Bring water to boiled. Add another 3 teaspoons of alkaline water into the boiling water before adding your dumplings.
Cook for about 3 hours. Add more water if the liquid drop below the dumplings level. Once done, hang to dry.
For the caramelized palm sugar syrup:
Ingredients:
450gm Palm sugar
200ml or 1 packet of Coconut milk
2 leaves of pandan (screwpine)
Method:
Put a little water in sauce pot. Cut coarsely palm sugar so that they will dissolve faster. Cook under low fire all the time.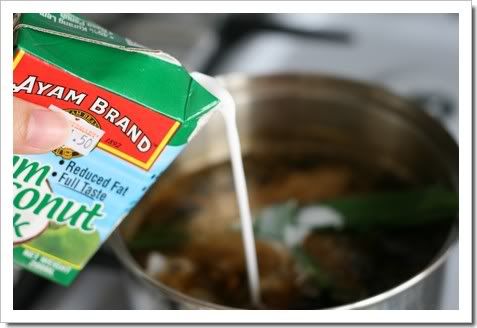 Once sugar dissolve, add in coconut milk. Cook till sugar thicken. That took me a good 1 hour!
I can eat 3 dumplings in a go. They are so lip-smacking good especially the palm sugar.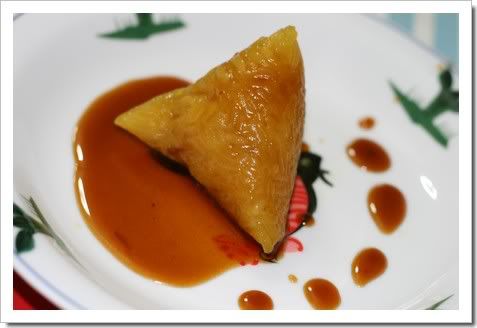 You can try cooking kaya too if you have the time. Seriously I don't that is why i resorted to palm sugar instead.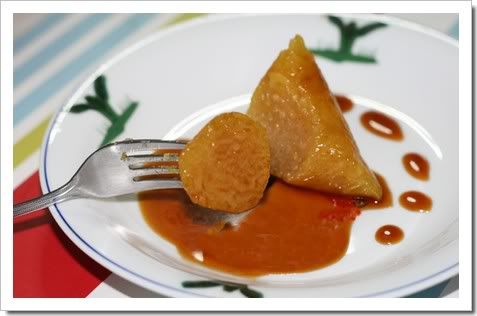 The actual day for Duan Wu Jie falls on 7th June 2008. Early Happy Duan Wu Jie to all since I won't be around that day.