I was frustrated with the result of my photography and has been bugging Kamkuey to hand me some 'face-to-face' tutorial rather than 'online' tutorial. And since last Thursday was a public holiday, we took that as an excuse to meet up for brunch too. Well, there's also a ulterior motive. Hehe… want to meet up with his jar boh pren also ma (Sorry, no pic. *ngek, ngek, ngek*)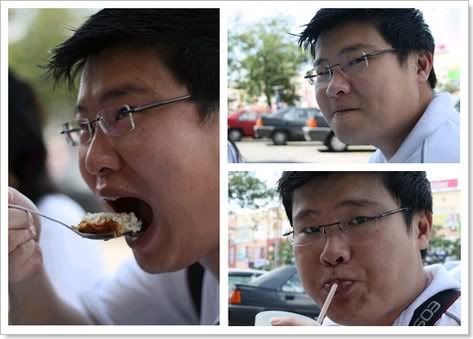 With partner in crime, Athena. (psst… do you think she looks like Sammi Cheng or not?)

Both our spouses was there but I didn't take their photo la. Not that I'm interested with other people's husband.
haha… just kidding!!!!
Well, a bit of havoc created by my kids at the beginning. Fighting, yelling, crying and my camera dropped on the tarmac road. Good thing it was in my camera bag – well cushion!
Food! The ever famous Klang dry bak kut teh.
My fellow guests never failed to give it a thumbs up. All scrapped to the bottom. Nothing was left except some dry chilies.
We adjourned to Bandar Bukit Tinggi for another specialties in Klang. The Yu Yu ice (Mandarin – Yau Yau Ping). Whatever it is. So, lots of testing shots here and there la. Kamkey with his ever famous trick shots: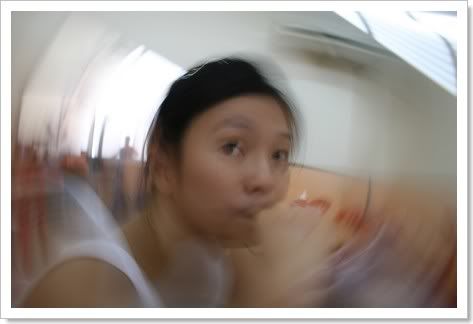 Si beh chun hor. It is not easy. A lot of coordination work with the zoom and shutter button.
I played with his 50mm F1.4 lens too.
Chun to the max! Look at the creamy background.
Finally after many sessions of theory, practical, quoestionaire, even some head bang from Kamkuey, I do understand ………………………………………………………………..
………………………………………………………………………………………………………… A BIT ONLY LA.